Posts for: February, 2013
By Borden Dental Arts
February 26, 2013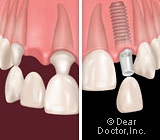 Before determining if a bridge or an implant will work best for you, here is some useful background information. There are two main parts to a tooth; the crown or part that you see above the gum line and the root portion that is below the gum line and encased in bone — the part that is replaced by a dental implant.
A dental implant is inserted into the jawbone during a surgical procedure. The implant is actually a titanium screw-like device that is placed in contact with the bone. During a 3 to 6 month healing period, it subsequently fuses to the bone. A crown made from dental porcelain, gold or a combination of both is then attached to the implant to mimic a healthy, normal tooth.
There are two critical reasons why implants are the preferred method for permanently replacing an adult tooth. The first is that they are less susceptible to gum disease and they are not subject to tooth decay. The second is that because they attach to the jawbone and not to the adjacent teeth. And while an implant may cost a little more initially, when compared to the longevity and replacement cost of bridgework over a lifetime, they may cost less.
By contrast, a fixed bridge is also a non-removable restoration or prosthesis (replacement part) that is held in place by attaching it to your natural adjacent teeth. The treatment gets its name from the French word for bridge, "pont," as the tooth being replaced is called a pontic. Before placing a bridge, the teeth on either side of the missing tooth must be prepared by removing layers of tooth enamel. Three new teeth are then crafted as a single unit from dental porcelain and/or precious metals with crowns on either side of the pontic. The pontic is held in place when the crowns are placed. Bridgework is at risk for gum disease and tooth decay and requires careful maintenance.
As with most dental procedures you have options and choices. Luckily, when it comes to determining whether a bridge or an implant will work best for you, you can rely upon our expertise. However, by having a clear understanding of these two options you are now better prepared for working with us should you require this treatment option. To learn more read the article, "Implants Vs. Bridgework." Or, contact us to discuss your questions or to schedule an appointment.
By Borden Dental Arts
February 03, 2013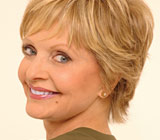 Life lessons are learned in the most surprising places. This is no different for celebrities. Take, for example, Florence Henderson, an actress, singer, philanthropist, author and star of the hit television series, The Brady Bunch. As she told Dear Doctor magazine, her experience with having four impacted wisdom teeth removed — at the same time — "...only made me more aware of how important dental care is." She continued, "This is why I have always gone every six months for a check up."
Another important lesson we want to share is the fact that even if your impacted third molars (wisdom teeth) are not bothering you or causing any pain, you may still need to have them removed.
Why? Having a tooth submerged below the gum, pressing on the roots of other teeth is problematic; the tooth should be removed so that you can avoid major dental problems before they occur. For example, it is not uncommon for us to find an impacted third molar pressing against the roots of the adjacent second molar. Furthermore, because the enamel crown of this impacted tooth is trapped below the gum, we sometimes find an infection, gum disease or even cyst formation occurring.
Often, the best time to remove a wisdom tooth is when it is not causing any problems. This is because a painful wisdom tooth or pain in the area of the wisdom tooth may be a sign that significant damage has occurred or is occurring. It is also better to remove wisdom teeth when you are young, as young healthy people with no prior infections at the site provide the best opportunity for us to remove the tooth with no complications.
To learn more about impacted wisdom teeth, continue reading the Dear Doctor magazine article "Removing Wisdom Teeth." Or if you suspect or already know that you have an impacted wisdom tooth, contact us today to schedule an appointment so that we can conduct a thorough examination that includes x-rays. During this private consultation, we will also address any questions you have as well as your treatment options. And if you want to read the entire article on Florence Henderson, continue reading "Florence Henderson."