Posts for: April, 2013
By Borden Dental Arts
April 20, 2013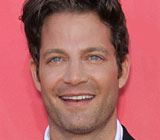 When it comes to dental health, you might say celebrity interior designer and television host Nate Berkus is lucky: Unlike many TV personalities, he didn't need cosmetic dental work to achieve — or maintain — his superstar smile. How did he manage that? Nate credits the preventive dental treatments he received as a youngster.
"I'm grateful for having been given fluoride treatments and sealants as a child. Healthy habits should start at a young age," he told an interviewer from Dear Doctor magazine. We couldn't have said it better — but let's take a moment and examine exactly what these treatments do.
Fluoride treatment — that is, the topical (surface) application of a concentrated fluoride gel to a child's teeth — is a procedure that's often recommended by pediatric dentists. Although tooth enamel is among the hardest substances in nature, fluoride has been shown to make it more resistant to tooth decay. And that means fewer cavities! Studies show that even if you brush regularly and live in an area with fluoridated water, your child could still benefit from the powerful protection of fluoride treatments given at the dental office.
Another potent defense against cavities is dental sealants. Despite your child's best efforts with the toothbrush, it's still possible for decay bacteria to remain in the "pits and fissures" of the teethâ??those areas of the molars, for example, which have tiny serrated ridges and valleys where it's easy for bacteria to grow. Dental sealants fill in and protect vulnerable areas from bacterial attack, greatly decreasing the risk that future dental treatment will be required.
Why not take a tip from our favorite celebrity interior designer, and ask about cavity-preventing treatments for your children's teeth? If you would like more information about fluoride treatments or dental sealants, please contact us for a consultation. You can learn more in the Dear Doctor magazine articles "Topical Fluoride" and "Sealants for Children."
By Borden Dental Arts
April 05, 2013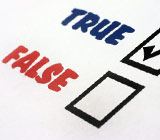 Periodontal disease is the leading cause of tooth loss in adults. A recent survey by the Centers for Disease Control and Prevention showed that nearly half of Americans older than 30 had some signs of periodontal disease. That's more than 64 million people.
How much do you know about this potentially serious disease? Take our quiz and find out.
True or False: Gum Disease is caused by bacteria in the mouth
TRUE. Of the hundreds of types of bacteria that occur naturally in the mouth, only a small percentage are harmful. But when oral hygiene (brushing and flossing) is lacking, these can build up in a dental plaque, or biofilm. This often causes inflammation of the gums, the first step in the progression of gum disease.
True or False: Gum disease is more prevalent among younger people
FALSE. Gum disease is most often a chronic disease, meaning that it progresses over time. Statistics show that as we age, our chances of developing gum disease increase, as does the disease's severity. In fact, according to the study mentioned above, about 70% of adults 65 and over have mild, moderate or severe periodontitis, or gum disease.
True or False: Bleeding of the gums shows that you're brushing too hard
FALSE. You might be brushing too hard — but any bleeding of the gum tissue is abnormal. Gum sensitivity, redness and bleeding are typically the early warning signs of gum disease. Another is bad breath, which may be caused by the same harmful bacteria. If you notice these symptoms, it's time for a checkup.
True or False: Smokers are more likely to develop gum disease
TRUE. Not only are smokers more likely to develop gum disease, but in its later stages they typically show more rapid bone loss. Smoking also prevents the warning signs of gum disease - bleeding and swelling of the gum tissues - from becoming apparent. Other risk factors for developing the disease include diabetes and pregnancy (due to hormonal changes). Genetics is also thought to play a role in who gets the disease — so if you have a family history of gum disease, you should be extra vigilant.
True or False: The effects of gum disease are limited to the mouth
FALSE. Numerous studies suggest that there is a relationship between periodontal health and overall health. Severe gum disease, a chronic inflammatory disease, is thought to increase the risk of cardiovascular diseases like heart attack and stroke. It may also lead to complications in pregnancy, and problems of blood-sugar control in diabetics.
So if you have any risk factors for gum disease, or if you notice possible symptoms, don't ignore it: let us have a look. We can quickly evaluate your condition and recommend the appropriate treatments if necessary. With proper management, and your help in prevention, we can control gum disease.
If you have concerns about gum disease, please contact us or schedule an appointment for a consultation. You can learn more in the Dear Doctor magazine articles "Understanding Gum (Periodontal) Disease" and "Warning Signs of Periodontal (Gum) Disease."