Posts for: September, 2013
By Borden Dental Arts
September 23, 2013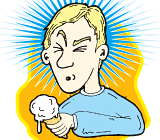 Tooth sensitivity is an all too common problem among dental patients. If eating certain foods or simply touching a tooth causes you pain, you should know why this may be happening and what can be done about it.
Tooth sensitivity occurs in most cases because the portion of the tooth known as the dentin has been exposed. The dentin contains nerve fibers that inform and alert the brain about the current environment of the tooth (temperature or pressure changes). The enamel protects the tooth from environmental extremes.
Receding gums are the most common cause for dentin exposure — the enamel only protects the crown of the tooth and is not present on the root of the tooth. Acids in certain foods can then begin to erode the dentin around the roots and expose nerves. Sweet items (mainly sugar) and temperature shifts irritate the nerve endings, causing pain.
While receding gums (most commonly caused by brushing too hard and too often) may be the most common cause for sensitivity, it isn't the only one — tooth decay may also lead to it. Untreated, decay works its way into the tooth pulp and irritates the nerves. Treating the decay and filling the tooth may also cause sensitivity unless the dentist places a lining designed to minimize it temporarily while the area heals.
Alleviating pain from sensitivity begins with how you brush your teeth. Remember: the goal of brushing is to remove plaque, which does not require vigorous action. Brush gently with a soft-bristled brush and not too often. We might even recommend not brushing a very sensitive tooth for a few days to give the tooth a rest. You should also brush with a toothpaste containing fluoride, which will help strengthen the tooth surface against the effects of acids and sweets.
During an office visit, we can also apply a fluoride varnish or use certain filling materials that will serve as a barrier for the sensitive area. For cases where decay has irreversibly damaged the tooth pulp, a root canal may be the best treatment.
Tooth sensitivity isn't necessarily something you have to live with. There are treatments that can relieve or lessen the pain.
If you would like more information on tooth sensitivity and what can be done about it, please contact us or schedule an appointment for a consultation. You can also learn more about this topic by reading the Dear Doctor magazine article "Sensitive Teeth."
By Borden Dental Arts
September 13, 2013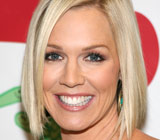 Plenty of parents use little tricks to persuade young ones to eat their vegetables, wash their hands, or get to bed on time. But when actress Jennie Garth wanted to help her kids develop healthy dental habits, she took it a step further, as she explained in a recent interview on Fox News.
"Oh my gosh, there's a froggy in your teeth!" the star of the '90s hit series Beverly Hills 90210 would tell her kids. "I've got to get him out!"
When her children — daughters Luca, Lola, and Fiona — spit out the toothpaste, Garth would surreptitiously slip a small toy frog into the sink and pretend it had come from one of their mouths. This amused the kids so much that they became engaged in the game, and let her brush their teeth for as long as necessary.
Garth's certainly got the right idea. Teaching children to develop good oral hygiene habits as early as possible helps set them up for a lifetime of superior dental health. Parents should establish a brushing routine with their kids starting around age 2, when the mouth is becoming filled with teeth. A soft, child's size toothbrush with a pea-sized dab of fluoride toothpaste and plenty of parental help is good for toddlers. By around age 6, when they've developed more manual dexterity, the kids can start taking over the job themselves.
Here's another tip: It's easy to find out how good a cleaning job your kids are doing on their own teeth. Over-the counter products are available that use a system of color coding to identify the presence of bacterial plaque. With these, you can periodically check whether children are brushing effectively. Another way of checking is less precise, but it works anywhere: Just teach them to run their tongue over their teeth. If the teeth fell nice and smooth, they're probably clean, too. If not... it's time to pull out the frog.
And don't forget about the importance of regular dental checkups — both for your kids and yourself. "Like anything, I think our kids mirror what we do," says Garth. We couldn't agree more.
If you need more information about helping kids develop good oral hygiene — or if it's time for a checkup — don't hesitate to contact us and schedule an appointment. You can learn more in the Dear Doctor magazine article "How to Help Your Child Develop the Best Habits for Oral Health."