Posts for: November, 2013
By Borden Dental Arts
November 25, 2013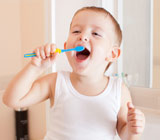 Caring for a young child can be overwhelming at times. Sometimes, it may feel like you can't read enough books to learn the correct way to do everything from potty training to feeding. It's also important to teach your child healthcare habits during these crucial years, so that they continue these habits for a lifetime!
Here are a few simple ways you can help your child to institute lifetime oral care habits.
DO: Encourage your Child to Brush Every Day with Fluoride Toothpaste. Fluoride will help make your child's teeth more resistant to tooth decay. You should use a thin smear of fluoride toothpaste for children under age two and a pea-sized amount for older children. At age two, you can also begin empowering your child to brush, but make sure that you supervise and finish the job. Your child will probably need your help until around the age of six.
DON'T: Share your Germs. Did you know that children are not born with the bacteria that cause tooth decay? In fact, the bacteria are transmitted to them from adults! You should never share a cup or spoon with your child. Also, next time you kiss your child, kiss him or her on the cheeks instead of the lips. Believe it or not, you can transmit harmful bacteria through this quick little kiss.
DO: Limit your Child's Sugar Intake. When your child consumes sugar, the bacteria use the sugar to produce acids that dissolve tooth enamel, eventually leading to tooth decay. Saliva can neutralize those acids, but it needs enough time, 30 to 60 minutes, to work its magic. That is why it is important to limit sugar intake between meals.
DON'T: Give Your Child a Bottle at Night. Juice, milk and even breast milk contain sugars that promote tooth decay, in particular during sleep, when less saliva is being produced. So, though it may be tempting, do not let your child go to bed with a bottle.
DO: Take your Child to the Dentist Early. The American Academy of Pediatric Dentistry recommends that all children have their first dental visit by the age of one. Your toddler will benefit from regular dental visits, because we will monitor tooth decay, correct brushing techniques and also, most importantly, ensure that he or she is comfortable in the dental chair.
DON'T: Allow your Child to Suck His or Her Thumb Past Age Three. Thumb sucking for comfort is a very normal behavior for babies and toddlers. However, if your child constantly sucks his or her thumb past the age of three, it can affect teeth alignment and jaw development.
If you would like more information about oral care for your child, please contact us or schedule an appointment for a consultation. You can also learn more by reading the Dear Doctor magazine article "Dentistry and Oral Health for Children."
By Borden Dental Arts
November 15, 2013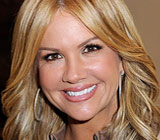 We've all heard of morning sickness, but did you know that it's also not unusual for pregnant women to experience oral discomfort? This is what Entertainment Tonight co-host Nancy O'Dell discovered when she was expecting her daughter, Ashby. In an exclusive interview with Dear Doctor magazine, Nancy described how her gums became extra-sensitive during pregnancy, leading her dentist to diagnose her with "pregnancy gingivitis" ("gingival" – gum tissue; "itis" – inflammation).
"While my dental health has always been relatively normal, pregnancy did cause me some concern about my teeth and gums," Nancy said. "With my dentist's advice and treatment, the few problems I had were minimized," she said.
It's especially important to maintain good oral hygiene during pregnancy with routine brushing and flossing, and regular professional cleanings. This will reduce the accumulation of the dental bacterial plaque that leads to gum disease. Both mother and child are particularly vulnerable to these bacteria during this sensitive time. Scientific studies have established a link between preterm delivery and the presence of periodontal (gum) disease in pregnant women. Also, the elevated hormone levels of pregnancy cause the tiny blood vessels of the gum tissues to become dilated (widened) and therefore more susceptible to the effects of plaque bacteria and their toxins. Gingivitis is especially common during the second to eighth months of pregnancy.
Excess bacterial plaque can occasionally lead to another pregnancy-related condition in the second trimester: an overgrowth of gum tissue called a "pregnancy tumor." In this case, "tumor" means nothing more than a swelling or growth. Pregnancy tumors, usually found between the teeth, are completely benign but they do bleed easily and are characterized by a red, raw-looking mulberry-like surface. They can be surgically removed if they do not resolve themselves after the baby is born.
If you are experiencing any pregnancy-related oral health issues, please contact us today to schedule an appointment for a consultation. If you would like to read Dear Doctor's entire interview with Nancy O'Dell, please see "Nancy O'Dell." Dear Doctor also has more on "Pregnancy and Oral Health: Everything You Always Wanted To Know But Never Knew To Ask."