Posts for: April, 2019
By Borden Dental Arts
April 14, 2019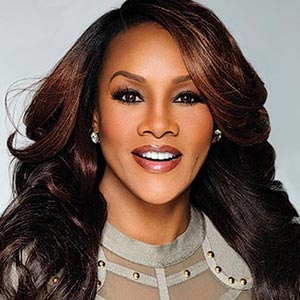 What's an actor's most important feature? According to Vivica A. Fox, whose most recent big-screen role was in Independence Day: Resurgence, it's what you see right up front.
"On screen, your smile and your eyes are the most inviting things that bring the audience in" she said. "Especially if you play the hot chick."
But like lots of people, Vivica reached a point where she felt her smile needed a little help in order to look its best. That's when she turned to a popular cosmetic dental treatment.
"I got veneers years ago," Ms. Fox told Dear Doctor magazine in a recent interview, "just because I had some gapping that probably only I noticed."
What exactly are dental veneers? Essentially, they are thin shells of lustrous porcelain that are permanently attached to the front surfaces of the teeth. Tough, lifelike and stain-resistant, they can cover up a number of defects in your smile — including stains, chips, cracks, and even minor spacing irregularities like the ones Vivica had.
Veneers have become the treatment of choice for Hollywood celebs — and lots of regular folks too — for many reasons. Unlike some treatments that can take many months, it takes just a few appointments to have veneers placed on your teeth. Because they are custom made just for you, they allow you to decide how bright you want your smile to be: anywhere from a natural pearly hue to a brilliant "Hollywood white." Best of all, they are easy to maintain, and can last for many years with only routine care.
To place traditional veneers, it's necessary to prepare the tooth by removing a small amount (a millimeter or two) of its enamel surface. This keeps it from feeling too big — but it also means the treatment can't be reversed, so once you get veneers, you'll always have them. In certain situations, "no-prep" or minimal-prep veneers, which require little or no removal of tooth enamel, may be an option for some people.
Veneers aren't the only way to create a better smile: Teeth whitening, crowns or orthodontic work may also be an alternative. But for many, veneers are the preferred option. What does Vivica think of hers?
"I love my veneers!" she declared, noting that they have held up well for over a decade.
For more information about veneers, please contact us or schedule an appointment for a consultation.
By Borden Dental Arts
April 04, 2019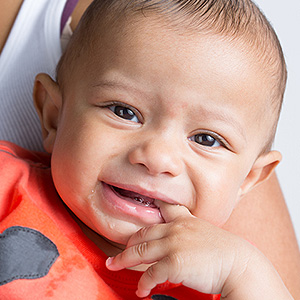 Although teething is a natural part of your baby's dental development, it can be quite uncomfortable for them—and upsetting to you. During teething, children can experience symptoms like pain, drooling or irritability.
Teething is the two or three-year process of intermittent episodes of the primary ("baby") teeth moving through the gums. These episodes are like storms that build up and then subside after a few days. Your aim as a parent is to help your baby get through the "stormiest" times with as little discomfort as possible. To that end you may have considered using over-the-counter products that temporarily numb irritated gums.
Some of those numbing products, however, contain a pain reliever called benzocaine. In recent years, this and similar ingredients have been found to increase the level of a protein called methemoglobin in the bloodstream. Too much methemoglobin can result in less oxygen delivered to body tissues, a condition known as methemoglobinemia.
This oxygen decrease can cause shortness of breath, fatigue or dizziness. In its severest form it could lead to seizures, coma or even death. Children and infants are at high risk for benzocaine-induced methemoglobinemia, which is why the U.S. Food and Drug Administration has banned marketing for benzocaine products as pain relievers for teething infants and children.
Fortunately, there are alternatives for helping your child weather teething episodes. A clean, chilled (not frozen) teething ring or pacifier, or a cold, wet washcloth can help numb gum pain. You can also massage their gums with a clean finger to help counteract the pressure exerted by an emerging tooth. Be sure, though, that you're not allowing anything in your child's mouth like lead-based paint that could be toxic. And under no circumstances should you use substances containing alcohol.
For severe pain, consult your physician about using a pain reliever like acetaminophen or ibuprofen, and the proper dosage for your child. With these tips you can help your child safely pass through a teething episode.
If you would like more information on helping your child cope with teething discomfort, please contact us or schedule an appointment for a consultation.