Posts for tag: bad breath
By Borden Dental Arts
December 14, 2020

Most of us have no clue how the ancient holiday tradition of kissing under the mistletoe originated—but it sure doesn't stop us from keeping the tradition alive! Yet although eager to join a certain someone under the hanging twig, you still might hesitate to apply the old smackeroo out of fear your breath isn't as fresh as it should be.
Bad breath has tormented us humans long before we started osculating (kissing) under trimmings of viscum album (the scientific name for mistletoe). Our resulting discomfort has inspired a myriad of remedies, from ancient Egyptian toothpastes containing natron (also used in embalming mummies) to 19th Century American breath mints made of ingredients like cardamom, essence of rose and licorice root.
Today, we're much better at relieving common bad breath because we've uncovered its primary source: bits of food and mucus accompanied by oral bacteria on undisturbed areas the mouth, particularly the tongue. As the debris interacts with the bacteria, it releases chemical compounds called VSCs (volatile sulfur compounds) that emit a classic rotten egg smell.
The key then is to remove the source of these VSCs. You might think that means doing a better job of brushing and flossing, and you're right. But it can involve more.
Keeping your tongue clean. Since the tongue is a prime collecting point for debris and bacteria, it makes sense to keep it clean. That might simply mean brushing its surface when you brush your teeth. You might, however, benefit from using a tongue scraper if you have more stubborn accumulations.
Maintaining your dentures. These and other dental appliances can accumulate food debris that if not removed can cause a "stink." You should clean dentures daily using a denture cleaner or mild antibacterial soap and then rinse them off thoroughly. It also helps to take them out at bedtime.
Seeking dental care. Another source of bad breath could be tooth decay or gum disease, or even older dental work in need of repair. Treating these and other conditions (like an oral yeast infection) not only improves your dental health, it could do wonders for your breath.
There are also other sources of foul breath unrelated to the mouth—and some can be serious diseases like diabetes, cancer or lung infections. If your chronic bad breath doesn't respond to your hygiene efforts, it's a good idea to get checked medically.
Now as to holiday traditions, we can't help you maneuver your prospective sweetheart under the mistletoe with you—you're on your own, pal (or gal). But by following these tips for sound oral care, we're sure you'll have the "fresh breath" confidence to follow through from there.
If you would like more information about eliminating chronic bad breath, please contact us or schedule a consultation. To learn more, read the Dear Doctor magazine article "Bad Breath."
By Borden Dental Arts
June 19, 2013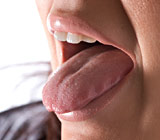 Bad breath, or halitosis, is bad news in any social situation — whether you're having an intimate conversation with a date or simply saying hello as you shake someone's hand. Halitosis, from the Latin halitus (exhalation) and the Greek osis (a condition or disease causing process), can also be a warning that something's amiss healthwise — usually in your mouth (85% to 90% of the time) but sometimes elsewhere in your body.
Most Common Causes of a Malodorous Mouth
Most unpleasant odors emanating from the mouth result from the processing of food remnants by certain strains of bacteria that typically populate the oral environment. As they feed on food particles, these microbes produce nasty-smelling byproducts — mostly volatile sulfur compounds, which have a distinctive "rotten egg" odor. That's why diligent dental care is front and center when it comes to banishing bad breath. Brushing, flossing and routine professional cleanings will help ensure that traces of last night's dinner or your midday candy bar don't stick around for bacteria to dine on.
Especially important, but often overlooked, during routine home oral care is the back of the tongue. This is actually the most common location for mouth-related bad breath to develop. Unlike the front of your tongue, which is bathed in saliva, the back of the tongue is relatively dry and poorly cleansed — an ideal setting in which microbe-laden plaque can form and flourish.
Even if you're industrious when it comes to brushing and flossing, food debris can get trapped and plaque can build up in hard-to-reach places such as between teeth (interdental), under the gums (subgingival) and around faulty dental work (e.g., ill-fitting crowns or veneers) contributing to overall oral odor. Other culprits include unclean dentures and oral disease such as tooth decay, gum disease, and abscesses.
Halitosis may accompany dry mouth, or xerostomia (xero – dry, stomia – mouth), a condition in which the normal flow of saliva, which cleanses the oral environment and keeps odor-producing bacteria in check, is interrupted. Most of us wake up with a temporary case of halitosis or "morning breath" because our salivary glands are less active while we sleep, but it usually disappears after a good brushing. If dry mouth is persistent, other possible triggers include: breathing through your mouth, a medication side effect, fasting or dehydration, or even stress.
Clearly, maintaining or restoring a healthy oral environment is your greatest defense against halitosis. Take care of your teeth and there's no reason your breath should be any less attractive than your smile!
If you would like more information about halitosis and ways to prevent or treat it, please contact us or schedule an appointment for a consultation. You can also learn more about this topic by reading the Dear Doctor magazine article "Bad Breath."